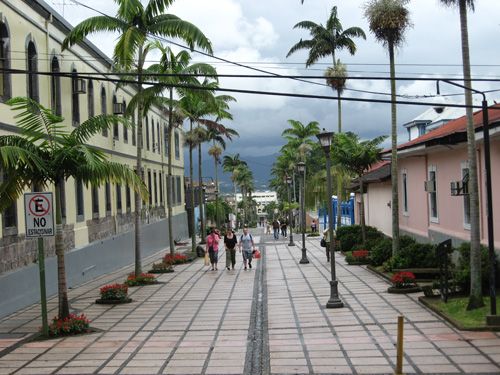 snapped during my five day stay in San Jose in July.
I enjoyed my time in Costa Rica (see recaps
one
and
two
). I initially opted to land in Costa Rica as opposed to Panamá since doing so saved me close to $200 in airfare. My five days here were the first time I'd visited a Spanish-speaking country, outside of Los Mexicangeles, California, where I spent exactly two years (7/1/09-6/30/11). I'll admit to not venturing out from the area immediately surrounding the hostel as much as I should have, but I found the stay mostly enjoyable. If, a month into this journey, I'm still trying to grasp Spanish now, I was significantly more nervous then. Staying in the hostel, where most residents spoke at least some English, so I was cool. More than anything, I ate in San Jose. I ate very damn well. No international sexcapades as planned, but you can't win them all. However, I measure enjoyment in calories consumed. And in the end, I had a fucking blast.
Lasting impression of San Jose: very few Black people. Lots of tourists, as it's the capital, but very few Black people. Most people I saw were of the more fair-skinned, Eva Longoria shade of brown, the ones with black hair and pretty features you see on postcards from Costa Rica. This may seem trivial to some, but I am fascinated with diaspora, with seeing the reach and outcome of African movement and influence. The owner of the hostel advised me that as I get closer to Panamá, specifically toward Colón, that the people would "look more like me." This was a grand understatement, I'm learning. More on this later.
all feedback is welcomed. yes, even those of you in the Bronx.|be notified of new posts:
Subscribe