many American fast food spots have sprouted up here in Panamá. as a personal rule, I try not to eat in places I can easily have back in the States. the goal will be much easier to stick to since McDonald's here doesn't have Sweet Tea.
Snack kiosk outside of the Multicentro. Paitilla, Panamá.




Cinnabon in the food court of Multicentro. Paitilla, Panamá.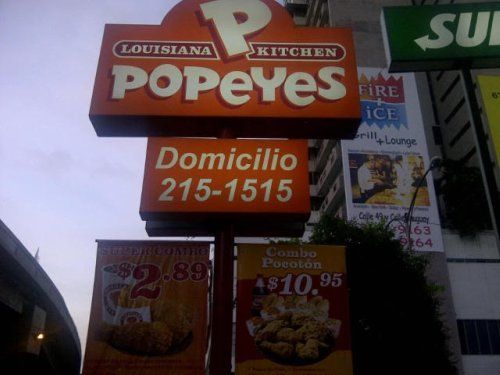 Panamanians love fried chicken.
Popeye's here delivers. To the next Negro, this could be a problem.
Aside from these, many of the nationwide American chains can be found here: KFC, Subway, Burger King, McDonalds, Dominos, Wendy's, and so on. I've even seen a flyer for Papa John's delivery. I can admit to giving in and raping an order of wings at Popeye's a few weeks back. Rice and beans, while marvelous, can only do so much to satisfy the cravings of a spoiled American negro abroad.
This also goes to show some of you that (all of) Panama is not, in fact, the jungle. So there.
all feedback is welcomed. yes, even those of you in the Bronx.|be notified of new posts:
Subscribe