As of this coming Saturday, I will have been in Panama for a month. Some days, I still can't believe I am here. Every so often, when something particularly awesome happens, I find myself saying, "This is my life. Wow." My short time in this country has show me a great deal about myself the world, made me much more open-minded, and strengthened my belief in the Law of Attraction. In a month's time, I have been able to construct a sturdy foundation for the life I wished and fantasized about in journals a year ago. That I'm even here, in good health, alone, is worthy of celebration. Despite all of the well-intentioned suggestions to make this a visit rather than a move, I'm here. Living. For as long as possible. With no set plans to return to The States. And I'm elated.
Work and Dance
Aside from connecting with my family's past, learning Spanish, and absorbing the culture, studying and teaching dance was a large part of my reason for coming here. I wanted to continue training in ballet and teach hip hop. According to people I'd spoken to previously, there wasn't much of a hip hop dance scene here. They said the classes were watered down and not comparable to anything in the states, specifically Los Angeles and New York. That is to be expected, but I had faith that the dance culture existed here somewhere.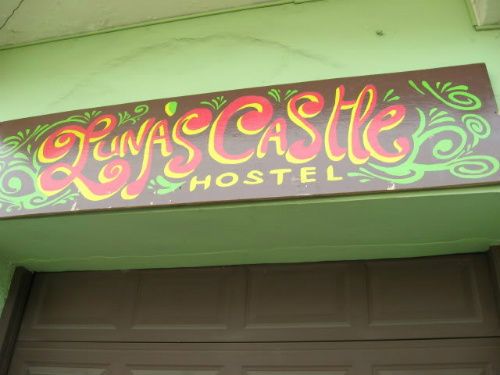 After settling into the hostel in Casco Viejo, Luna's Castle, I happened to browse the classifieds in La Prensa to see what I'd find. I specifically looked out for any postings from gyms, dance schools, English academies, language schools, or anything with the world "English" in it. Happened across a post seeking an aerobics and dance instructor, preferably bilingual, willing to do light clerical work as well. Hmm. The instructor part was cool. I figured being more on the English side of bilingual wouldn't get me murdered, and assumed that "light clerical work" meant something along the lines of signing people into class. Sounds good to me. Responded via email, and exchanged messages with the studio owner for awhile before scheduling a meeting later that night. The school, Zumba Fit 507, is located in an area called Paitilla, a more affluent part of town where the newly constructed Multicentro is located. Here you'll see the bulk of the highrise buildings, fancier apartments, endless renovation, etc. Translation: the money is here.
Paitilla, Panamá City
Lucy, the studio owner, was finishing up a Zumba class when I arrived. The position was for a Zumba instructor to take over one of her three to four daily classes. What is Zumba? Zumba is a fitness program that combines Latin dance with hip hop, dancehall, african, and other international styles for an intense, high-energy aerobic workout. It's become wildly popular in recent years. The beauty of it is that every class is different. Some classes weigh more on the strictly aerobic/latin side, while others are heavy in more international vibes. A few examples:
Some are more like dance classes:
And some are decidedly more exercise-based:
The bad thing about having a program that's open to such varied interpretation is that you occasionally ended up with a completely flavorless class like this one:
The young ladies are fit, sure. And they mean well. But as Zumba is based in LATIN dancing, I'm going to need then to realize their torso is not a block of wood, and acknowledge where there would, on another more shapely woman, be hips and an ass that are able to move freely. WORK THAT WAIST DAMMIT.
Have I taught Zumba before? Absolutely not. But, being athletic, fit, and familiar with both dance and aerobics, figured I could give it a shot. We talked dance and fitness as well as her expectations of me, the potential instructor. Within an hour of vibing and connecting, she'd offered me the position, as well as the opportunity to begin a hip hop class. This was day two in Panama. Win.
I've been in classes for the last two weeks, learning the pace the classes, the Zumba teaching method, observing Lucy's style and that of a visiting instructor, Mario. There are a wealth of "Zumba moves" that all classes should/will have, and it's good to see both male and female teachers interpret them differently. Again, every class is different. That's the beauty of this. It's based in interval training, with an hour class consisting of between 12 and 15 songs. After a warmup and targeted muscle work, the songs are a mix of fast and slow rhythms that alternately elevate and lower the heart rate for an effective burn, always resulting in you being completely drenched by the end of the class. Zumba involves a combination of aerobics, toning, and dance. I decided my class will involve more hip hop than Lucy's class. The key in this school is to be mindful of the ages and ability levels of the students: mostly 30+ women who are mostly fit, aside from the occasional housewife completely devoid of coordination. That's okay. They're friendly, mostly English speaking, and appear to be very open-minded. This will absolutely be a good thing.
Did I move to Panama to teach Zumba? Not exactly, but I am completely open to outcome and willing to take on whatever adventure or new experience is placed before me. Besides, I'm able to work out, while improving as a teacher, making great contacts, and helping students change their bodies and gain confidence. Everyone wins.
English and Spanish
Gaining fluency was a large part of moving here. It's pretty obvious that learning Spanish in a Spanish-speaking country is infinitely more enriching than doing so in an American classroom, even if the course is conducted in Spanish. From the moment I landed in the airport in Mexico City, I realized that after all the years of studying Spanish in school, none of that Spanish was here. The Mexicans I'd encountered in Los Angeles speak more clearly and slowly than the Costa Ricans I met while there. Same for Panamanians. Then, add colloquialisms to the mix. Then, add in the dialects and accents from the various regions, ethnic groups, and natives of other Latin American and Hispanic countries that I cross paths with. In short: I exist in a cloud of confusion.
I'm faring pretty well in communicating in Spanish. I'm learning everyday and make sure to let people know to correct me if I make a mistake.
I've studied Spanish for over four years. Naturally, because I have always felt a need to absorb the language, I've always excelled in school, on paper. The biggest hindrance to my progress, however, has been a lack of practice. Real life application. My Panamanian ass mother and grandmother rarely spoke Spanish to me growing up. The limited use of the language over the years resulted in me being proficient in reading and writing, but entirely lacking in confidence as a speaker. Then to arrive here and hear Panamanians run words together and pepper their speech with Spanglish? Again: a cloud of confusion.
I'd originally intended to attend Habla Ya, a well-respected Spanish school in Boquete, Panama. After opting for city life versus mountain life, that plan was out. I briefly considered another school here in Panama City before a friend told me about cheap classes at the University of Panama. I did some research and called to inquire about the price and structure of the courses. At the end of the conversation, Profesor Eduardo asked, "What's your native tongue?" I told him, "English." Then: "Bueno. We're starting a new class for advanced English students, where they focus on conversation in real life situations. We're looking for a teacher. Would you like the job?"
BITCH, WHAT?
"............of course. When can I...?"
"Can you come today to learn more? Say, in an hour?"
"Of course. Wow. Thank you!"
So, I went to the Centro de Lengua at the University of Panama. Met with Profesor Eduardo. Chatted briefly about my life, past work experiences, and reasons for coming to Panama, in Spanish, while he got a feel for my comfort with the language. He explained what he expected from me as a teacher: a conversation class, conducted solely in English, three times a day, twice a week.
9 AM, 1 PM, 6 PM, and a Saturday morning class.
Each class is roughly an hour.
My initial fear was that these courses would interfere with my other teaching commitments. Then, he g
ave me the option of Mon/Wed or Tues/Thurs. Since my Hip Hop and Zumba classes are Tues/Thurs, I opted for Monday/Wednesday. Whew.
Then: "As an instructor, you'll also get to take Spanish classes here for free."
MOTHERFUCKING WIN.
I had already budgeted several hundred dollars for Spanish classes. Win. Win. Win.
I will also admit that my thug exterior was breached, as I, overwhelmed with my accomplishments, shed a tear and a half on the phone with my mother after leaving the Humanities building. Sue me. After you fight me.
*holds up gang signs to offset emo moment*
I registered for (free) Spanish courses today. Did an oral evaluation with my professor, and my first (free) course begins next Tuesday (for free). Since the next session of English classes don't begin until September, I've put ads out for private English classes. A classified ad in the paper for about six days spread over the next two weeks, combined with fliers posted on a handful of bulletin boards. Individual, couple, and group rates. I've been getting calls. All good things. I'm thankful.
The next step is to continue advertising the hip hop, Zumba, and English courses. The goal is to continue networking with dancers, checking out events, meeting up and dancing with crews (I rehearsed with a b-boy crew last weekend!), and just self-promoting as much as I possibly can. It appears any fear I once had to advocate on my own behalf was left in Los Angeles. If I have reached this point in a month's time, I can only imagine where I'll be one year from now.
And yes, I do intend to stay at least that long. Ahem.
Look out for videos of my first hip hop and Zumba classes next week.
all feedback is welcomed. yes, even those of you in the Bronx.|be notified of new posts: Subscribe