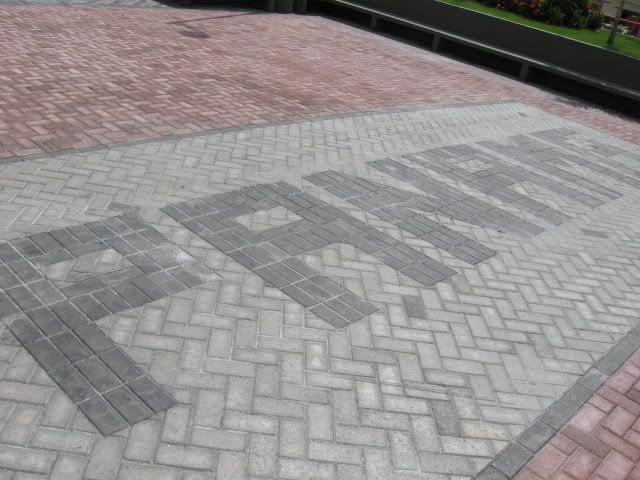 As of August 6, I've lived in Panamá for a month. If it feels like I'm reiterating this point, it is in part because some (Hi Mom!) still don't grasp the "officialness" of the situation. Birth certificates and various documents are being translated into Spanish, notarized, and authenticated by the Panamanian Embassy. Local wombs are being tested for child bearing capabilities. Eyelash samples of potential baby mamas are being compared against mine. You see, all I ask is that my children have brown hair, pretty eyelashes (*blink blink blink*), and are bilingual with pretty skin. Or not. The goal: dual citizenship, made easy because my mother was born here. I'm "entitled" and such. Strangely the citizenship process is markedly shorter than securing a (temporary) work permit, which lasts one year, must be renewed annually, and could be contingent upon employment with a given employer. No, thanks.
I say all that to say, as I said when a friend questioned my intentions here, "Yes, it's official." For the tenth time. At any rate, this was meant to be a time of celebration and reflection. After advertising all week, I went to Albrook Mall to meet my first client for private English lessons. Due to miscommunication, we missed one another, so I sat in the food court, stuffed my face with some hip-widening goodness, wrote, and chatted with my parents. After declaring the day a loss, I gathered my belongings to return home.
Keys? Check.
Journal? Check.
Empty Calories? Check.
Phone? Check.
Passport?
Hm. Not in my back pocket where I tucked it. I froze while passing the carousel in the Food Court. Dropped to one knee and dumped my bookbag out on the spot. Other butt cheek pocket? No. In between pages in the journal? No. Front jean pockets? No.
FUCK EVERYTHING.
Cue panic.
Checked with the source of aforementioned hip-widening goodness. Naw.
Asked every cleaning lady in sight if she'd found a pasaporte. Nope.
Freaked out and called
Vaughn
. What he could do for me from Philadelphia, I don't know. Voicemail. Betch. Called Said. "Find a security guard and ask if he'd found a passport or If anyone turned one in." Ah yes, the obvious. In my panic, my logic had vanished. I paced around the Food Court like a junkie, looking under tables, under trash bins, scratching my head, mouthing "FUCK" and "SHIT" like I misplaced my stash of powder.
Gave the security my info. Stressed the important part: "It's an AMERICAN passport, so...yeah."
Found another guard and repeated. "....AMERICAN PASSPORT...." Checked with cashiers at all surrounding restaurants. Made sure, though, to avoid the actual city Police who patrolled. After my recent encounter with them, and having heard various unsettling stories, I wasn't too keen on going to them for help without ID and/cash in my pocket.
Thirty minutes later, like a kid whose balloon slipped out of my grip, I finally boarded a bus for home. Naturally, I kicked myself for not making several copies of my passport and entry stamps like I said I would, in case this happened. Then Twitter friends poured on the support and next steps. Again, still not thinking logically. All I saw was someone boarding a US-bound plane in my name.
Stopped by the police station to file a police report as instructed. With the stamped document, I was to later visit the US Embassy, fork over $135 plus mandatory expediting fees, wait three weeks, and hope nobody attempts to start a new life in the States in my name.
Came home, dejected. Took three shots of tequila. Did some pushups, and smashed a small bag of Doritos, feeling like quite the first class failure. Gathered myself and ran the Cinta Costera as the sun set. Returned and reheated dinner from last night accompanied by a tall, healthy mixed drink, yes, please, okay, thank you.
I sat, reflecting on just HOW valuable this lost American passport was. Crossing into Panamá from Costa Rica, I was practically just waved through Customs, while those with Columbian and other passports were hassled and made to open every pocket, back, box, and zipper in their possession. I was advised, when stopped by Panamanian police, to speak perfect English, show my US passport, and will most likely be left alone. "Privileged" is an understatement here.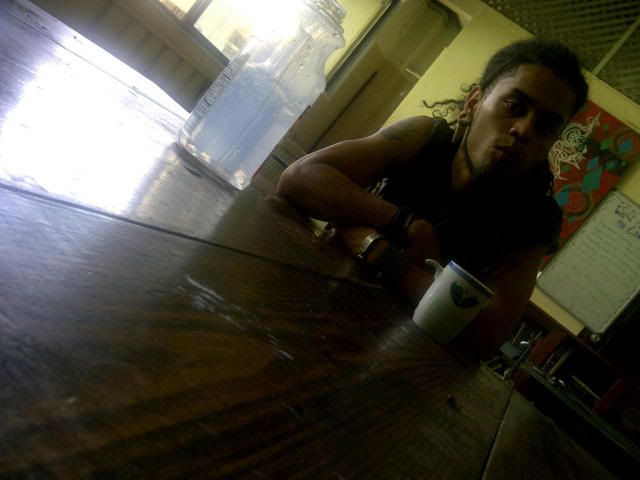 Chaco.
While eating, the doorbell sounds. It's Chaco, the Panamanian rasta I've been hanging with lately. We met while I stayed briefly at Luna's Castle Hostel weeks ago. Coincidentally, he now stays in the apartment above mine. Great guy: an artisan. Sells handmade jewelry here in Casco Viejo and plays in a reggae band. Looks out for me.
We chat briefly. He asks: "Did you lose something?"
BITCH DON'T PLAY WITH MY EMOTIONS.
Me, still not thinking logically: "Yeah, I lost my passport today, either in the mall, in the street, or in a taxi. No luck at the mall, but if it was in a taxi, it's pretty much gone so...basically I'm going to stay in after dark and avoid the fucking police because..."
Chaco: "Ah. Yeah, okay. Well here."
He handed me my passport.
I said,
HE HANDED ME MY MOTHERFUCKING PASSPORT.
"WHERE THE FUCK?"
"You owe me $10. Some guy found it in the street out front and tried to sell it to me. He wanted $300 because he thought it was mine. That's how easy it is to get one."
MOTHERFUCK MY ENTIRE LIFE SPACE.
The guy asked if it was his. Chaco told him it wasn't, but that it belonged to a friend. He paid him $10 and got it back for me.
So. I'm not dead. I didn't have to camp out at the Embassy. Not off the grid or out of $195 in fuck ass passport fees. I don't have to spend the next three weeks carrying around a police report and a useless California driver's license while avoiding the police.
What have I learned today?
1. I will have my FUCKING AMERICAN PASSPORT surgically attached to my dick.
2. In general,
having great hair
being a good person pays off.
3. Perhaps due to my endless campaigning in spreading the Gospel of The Red Velvet Glory, someone "up there" is looking out for me.
4. I am obligated to bear Chaco's second and third children. Somehow.
5. This could have just as easily been an "expensive lesson in (insert whateverthefuck)".
6. Despite the existence of BET in the Age of Obama, there are good people in this world.
Now, excuse me while I rub one out in the name of karma and such.
-chrisAlexander