Without searching my brain for a witty opening, I'll just admit that I am fat on the inside. I don't fuck around with food. Whether it's an oreo cheesecake for breakfast or a pan of cheesy and magnificent mac and cheese all to myself, I play no games when it comes to filling my stomach. I've consumed some gloriously gluttonous treats over the years, and, being a good person, always try to share my backsliding with the world. So, for your food porn pleasure, here are a few of my favorite fat indulgences from my high calorie past.
Episode one:
Mofongo's
.
Being half Panamanian, I've always had an affinity for Caribbean cuisine. I was raised on fried rice, arroz con pollo, tamales and empanadas. Even with my limited exposure at the hands of my Panamanian Grandmother, I was well acquainted with the rich flavors not native to the United States. Sweet, lightly crunchy plantains. Chicken coated with countless seasonings, stewed with love (and bay leaves). Perfectly crafted crescent moon-shaped empanadas known to drain wallets and cause rifts among cousins (bitch), and whose recipe will certainly follow Grandma to the grave (in 100 years, long after I'm gone, of course). This is what I'm used to. Spending two years in Los Angeles, realizing that there's no such thing as a Panamanian restaurant out West, I had to settle for something equally satisfying:
Mexican food
Puerto Rican food.
One can only consume so many cheap roadside and/or happy hour tacos before growing tired of tortillas. I went on a handful of fruitless hunts around
Lil Tijuana
North Hollywood in search of an edible platano NOT attached to a transgendered Mexicunt hooker only to discover that THEY DON'T EVEN EAT PLANTAINS. Una mujer in the local grocery store me dijo, "We don't eat dat, so we no sell los platanos." What in all the Selena y Los Dinos fuck?
Let's not get off topic.
Puerto Rican food. Fellow lovers of the bay leaf. Rice hoarders. Enthusiasts of things other than things found in or on tortillas. My kind of people. Sure, many of the foods I'd eaten over the years can be found in any Latin culture, but I'd never previously had PUERTO RICAN FOOD until living in Los Angeles.
I'd heard about
Mofongo's Restaurant
for a solid year before venturing over to their spot on Lankershim in North Hollywood. They pride themselfs (© Beyoncé) on being the only restaurant offering a
full
Puerto Rican menu in
La Republica Nueva de
México
Los Angeles. Go figure.
I started simple, with
their
Pollo Guisado.
Pollo Guisado, or stewed chicken, is mainly a Puerto Rican and Dominican dish. While stewed chicken dishes can be found in many other cultures (West Indian cuisine, for example) the latin variety has become quite the personal favorite. The chicken is braised until it falls off the bone, and, along with an assortment of veggies for flavor, goes great with arroz con habichuelas (rice and beans) or potatoes.
I was impressed by Mofongo's take on the dish. Having had an admittedly limited exposure to it, I didn't have many other versions to compare against. But, hell, I loved it. The portions were generous (enough), the dish was flavorful, and it sent me switfly into a food coma. Success.
I'm a creature of habit. So, once I decide I like a dish, there's no real need to venture out.
Inwardly Fat Rule #1:
Never experiment with food when you are hungry.
the lunch combo. to go.
I even took _____ there for lunch before I left Los Angeles.
It worked. Ow.
an example: Mofongo with shrimp. NOT from Mofongo's.








Of course I had to try the restaurant's namesake dish, the
Mofongo
. Mofongo is native to Puerto Rico, though other variations exist in other Hispanic islands of the Caribbean. It's a mashed, seasoned mound of plantain, topped or served with a combination of vegetables, seafood, or meat. I've heard friends and associates ranting about the dish for months, but this was my first experience.
Though they offer the dish with camarones (shrimp), pork cracklings (insert side eye), and carne guisado, I tried their
Mofongo con pollo guisado
. Chicken is safe. Again, not having anything to compare to, I enjoyed the dish. First thought that registered upon first bite: garlic. Not excessive, but the chef is DEFINITELY a lover of garlic. As it is fried, the mofongo itself was crispier/harder than anticipated. Luckily, the stewed juices of the pollo guisado softened the texture a bit. I'm usually a white rice kinda guy, but I decided on
arroz con gandules
, or pigeon peas, (different from
guandú
, a small green pea found more in Panamanian cooking, I learned) this time. Decent. Not as flavorful as I would have hoped.
Either way, I had it twice. On the the latter occasion, with white rice instead, I decided to dine in for once. Aside from being transfixed by the waiter's pretty and potentially powerful mouth, I enjoyed the cozy atmosphere, welcoming scents, and a never-ending megamix of JLo hits.
¡WEPA!
Also magical: their
Jibarito de Res
. What's a jibarito? A Puerto Rican/American hybrid dish, originated by a chef in Chicago. The sandwich substitutes smashed, fried plantain for bread, and is served with lettuce, tomato, meat of your choice, and cheese usually.
I said,
plantain
as
bread.
Praise Saint Big Pun With An Ever-Expanding Waistline.
Examples:
I forgot to snap of picture of the dish at Mofongos. This is all I captured of the moment:
Favorite of all? The
Bocadillo de Res
. Essentially a steak sandwich, it's served here with lettuce, onion, tomato, and chilli mayo.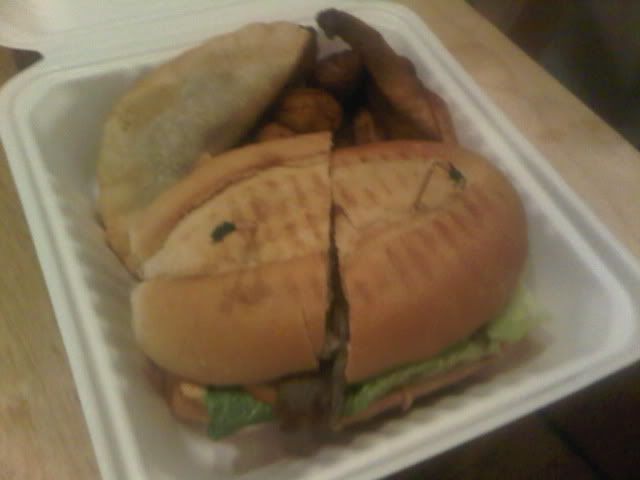 Bocadillo de Res.
Their's is a simple dish that includes a side (
maduros
, always, please, great, thank you). There was a month when I was here for this dish at least twice a week. A perfectly marinated steak on a glorious roll, sized perfectly for rapid consumption and limited shame. I may or may not have considered using the chilli mayo as a sexual lubricant. You know, spicy oral and shit. For
their
benefit, naturally. I kid.
Kinda.
And sure the wet dreamy waiter(s) didn't hurt. Eventually the
entire
staff new my name and could predict my order. A definite sign of over-indulgence, but I loved every moment of it. Gawking at perfectly polished and plucked, questionably geigh Porta Riffa employees while inhaling guilt-free calories ("cultural research," no?) at Mofongo's is definitely one of the things I'll miss most about Los Angeles.
I can't say how this compares to your wide-hipped Abuelita's family meals, but I'd recommend this joint to anyone who's down for some authentic island cooking.
Rating: Two Platanos Up.
Mofongo's Comida Caribeña
North Hollywood, CA
all feedback is welcomed. yes, even those of you in the Bronx.|be notified of new posts:
Subscribe