I landed in 2003 Tuesday. You may also know this as Hampton, VA. Home with my family for the first time since December 2009, and I'm loving it. With my
move to Panama
approaching, it is important to connect with as many people as possible by June. Aside from seeing familiar faces, I intend to do a great deal of eating. And seeing my nieces. And cooking for mama. And dealing with the other person who just so happened to inhabit my mother's womb at one point, their other offspring, my...(deep sigh, loud swallow)...sister.
...who I've seen wear gray or blue contacts on various occasions, but whatever.
Had breakfast at Cracker Barrel yesterday. Haven't been there since 2005. Weeks after being diagnosed with lupus, i had one of many let's-pretend-all-is-okay dinners with Andre and Tiffany. I was still using a cane then, and at the end of the dinner, Tiffany reveals that my mom asked her to ensure that I took my medicine after our meal. Priceless.
Then I broke down in tears in her car.
The french toast was that good.
Today, though, I reconnected with Jaems, the son of one of my grandmother's close friends. Here in Hampton Roads, my grandmother is a Panamanian socialite, if there is such a thing. As a caterer, her house parties are the stuff of legend. Soca, calypso, magical arroz con pollo, and her life-altering empanadas. Oh, the empanadas. My earliest memories certainly include burning my tongue on fresh-baked empanadas. Around here, getting the last empanada is a gift from God. It's not uncommon for gold-toothed, gold-laden hungry Panamanians to make the three-hour drive from Washington, DC or the trek from Richmond to secure a few dozen of the celestial meat-filled pastries. Last year, a cousin I was to meet for the first time returned to Los Angeles from Hampton, carrying a dozen empanadas intended for me. They somehow "disappeared." We don't speak anymore.
"And no, you can't have the recipe."
At any rate, our grandmothers met here in the 1980s, and he fills me in on local happenings and the like. Essentially, he sees my grandmother more than I do. And while we're practically related, and have connected via Facebook and Twitter as of late, we've spent very little time together.
So, we headed to Cracker Barrel. An actual general store greets patrons before entering the restaurant. It's filled with all types of mass-produced country-themed goodies like pure maple syrup, huge rocking chairs, biscuit mix, and barrels of candy. Very Andy Griffith.
White-haired white people everywhere. A bewigged colored hostess floated around, checking up on tables, greeting them with "Hey suga" and "How yall doin?" and such. I fully expected there to be a "colored" section. The waitress approached.
"HEY YAWL."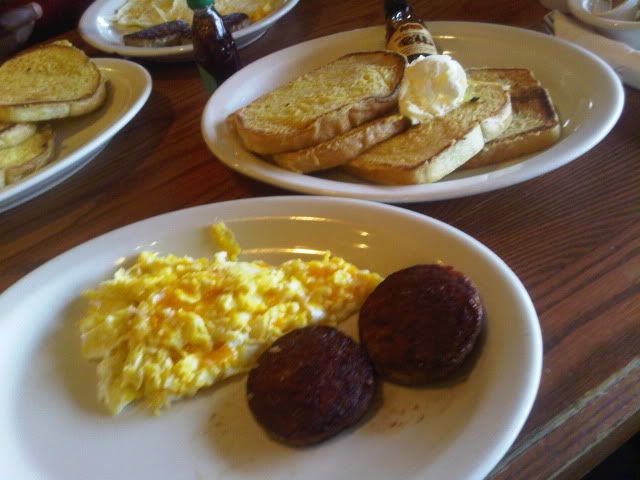 I waited for Motormouth Maybelle from Hairspray to mosey up and sing about how a change is gon' come. Anywho, we ordered, caught up. We've more in common than I realized. We discussed his recent trip to Panama, my upcoming venture. We ordered, caught up, ate, talked shit. All the while, I'm realizing that
this
place perfectly embodied the feeling that overwhelms me when I come home. It never seemed this old-fashioned before. The people never seemed
this
behind. With each visit home, I am more and more thankful that I left. I can't imagine life in Hampton as a 20-something that's never ever left.
That is another blog entirely.
However, it's so so good to be home. Being able to look at and laugh with my Mom and Dad is so fucking great. Seeing my grown ass nieces, feeling some kinda way that the older one is just a few inches shorter than I, showering my sister (who also just started locking her hair) with side eyes and eye rolls, trying in vain to convince my grandmother that my hair is real and without extensions, being in walking distance of Chick-Fil-A and WalMart, seeing people I grew up with, running around the house with my sister's bitch ass miniature dog, having my parents remind me where the bathroom is as if I didn't live here from 1989 to 2006, sleeping in the same twin bed in my newly repurposed bedroom, and so on: all priceless, amazing experiences.
I have to soak up as much as I can before June 30th. I will no longer be a $40 bus ride or six-hour flight away. Though my parents have accepted what's approaching, I can tell they long for me to call and say that I'm moving back to Virginia. They do, though, respect my wishes and don't constantly hit me with "You know, you should just move back here," the way some of my friends in New York do. You think I enjoy being away from people I love? I wonder if they realize how hard it is hearing about all the amazing, fun, unique experiences and generally awesome shit I'm missing out on, and not being able to hop a train and be with them.
Ah well. Such is life.
Off to peel potatoes for my Mama...even though she hated on my macaroni and cheese yesterday. THAT is another blog altogether.
peace.
-chris.alexander