It's 6:39 PM. Students of the memoir writing class are gathered outside the door awaiting the teacher's arrival. Out of habit, and because I know
Ashy Jack and/or Lady Create-A-Waist
will be soon be joining us in the hallway, I have my camera out, muted, with the flash off, waiting for the magic to happen.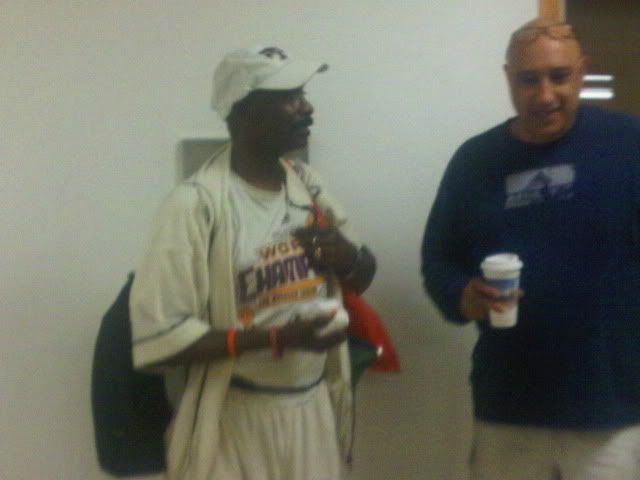 Ashy Jack on the right.


I'm tired. I'm drinking raspberry tea, making notes on a chapter submission to be read later in class. Ashy Jack, a native of a region of Compton where lotion is outlawed, shows up. The gentleman on the right compliments me on my necklace.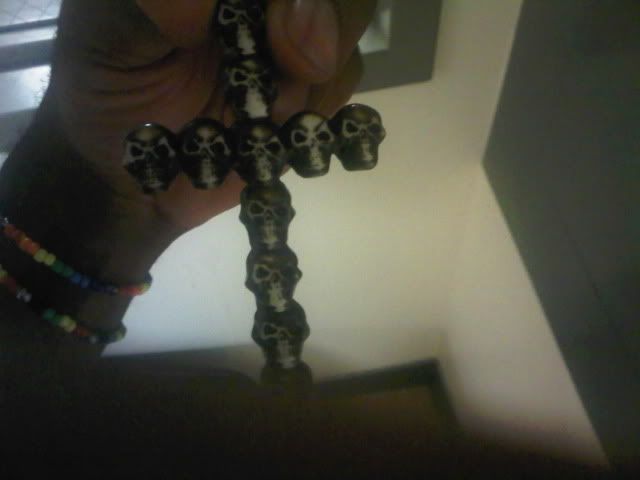 That's a cross, right? Oooh. Lemme see. (examines) I like that. Very cool.
Then Ashy Jack:
"Is them..um...skuhhs? Them is skuhhs? Like...dead heads? Oh! That's a....uum...an... ALUMINUMATI symbol? I don't know about that....
...and he launches into a convo with the other gentleman about heathens and "wuss wrong wit de whirl today."
Class begins. A girl is reading a chapter about her brother's death. She worked in a call center where phones had to be stored under your desk. In the course of two hours, she missed 25 calls from her mother, sisters, and other relatives notifying her about her brother. She is grief-stricken, thinks she should have been more attentive. She is emotional, and we offer our support before critiquing her work.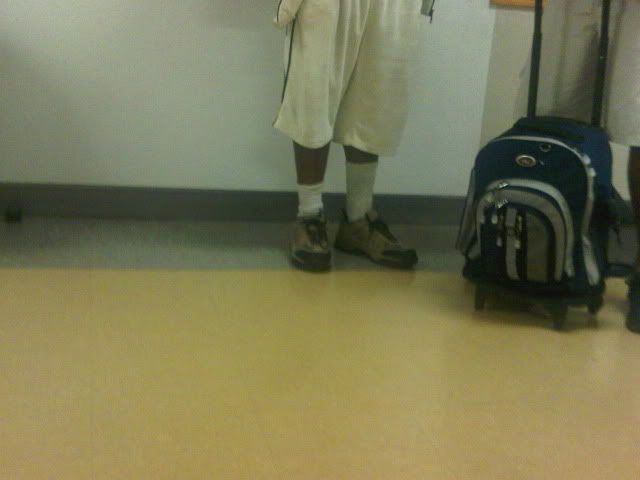 After an awkward silence, Ashy Jack waves his hand to bless her with his wisdom:
Well...you mentioned the phone...and missing the calls. I think maybe you should have answered the phone. Do you regret that?
Yes. He is not to be bothered with the task at hand, offering feedback on the WRITING and things to improve upon within the storytelling. Oh no. Ashy Jack, like last week, feels inclined to tell us what he thinks we should have done differently in LIFE.
I think...you know...if you would have answered the phone....maybe...it wouldn't have ended up as it did. Good storeh doe.
I cringed and huffed and made a big to-do about disrupting him. The next chapter came from a girl who wrote about her journey into motherhood: deciding to have a baby, a cross-country road trip with her husband, the joys of inescapable credit card debt, and so on. It was a light, uplifting, cute story. I was, however, distracted by the woman beside me. Victoria.
Picture: Sub-Saharan hairline. Silky smooth, hand-me-down Lil Miss EBT Pageant Ponytail. Over-sized suede jacket.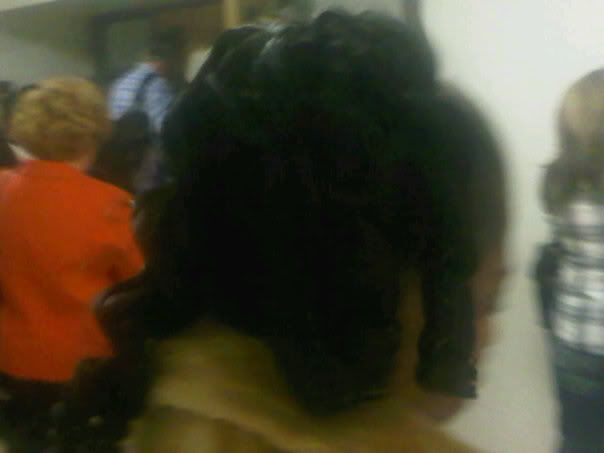 Killin' it.
oh. and these:
THAT wasn't the distraction. After our break, she'd returned with Fritos. Yuck, but "to each is zone" (shoutout to
Dirty Dez
for that gem). What distracted me was that she would crush them in her hand and shake it up as you do before rolling dice, then inserted the little pieces slowly, feeding them through her front teeth. WEIRD. Then: licking her palms and wiping it on the suede jacket. Not sure why it distracted a classmate and I, but she was LOUD, and was gonna enjoy her Fritos (yuck) regardless of what I thought. I couldn't take my eyes off of her.
I thought class would end with no additional gems from Ashy Jack. Then, while telling a story, he goes off into some tangent about how kids today shouldn't be wearing skinny jeans and how that's why teenage girls get knocked up so young, and how locs (he called them dreads) are.........UNBECOMING, and that he missed the old days when men were men and women stayed home and cooked.
*sigh*
That gave me a hearty laugh, even moreso when my classmate Sarah, who cringes when I cringe and is annoyed when I'm annoyed, looked at me with widened eyes, as if waiting for my response. Good times.
I'll give that one to Ashy Jack. He even glanced at me when mentioning skinny jeans. You go, Ashy Jack. You go boy.
He's clearly declared war. He plans to present his chapter next week. I will have a camera crew on hand. And next time he says some slick shit, I'm calling A&E on his ass for hoarding teeth.
~coloredBoy
all feedback is welcomed. yes, even those of you in the Bronx.|be notified of new posts:
Subscribe