Today has turned out significantly better than anticipated. Had a great workout at the gym, thanks in part to a a potential workout buddy. We rode to the gym together, but worked out individually. This is quite fine, since the fact that I made it there is what's worth celebrating. Gotta get serious about working on my sessy. Shit.
After that, I stopped off by Iliad Bookstore in North Hollywood and raided the shelves. They're my favorite used book store here. I can find most older titles I seek, and there's always some type of sale. The walls are lined with boxes upon boxes of books. *quivers* I would love to one day have sex in a bookstore, but that's a different blog post altogether, right?
Anywho...this day, I wound up treating myself to ten books.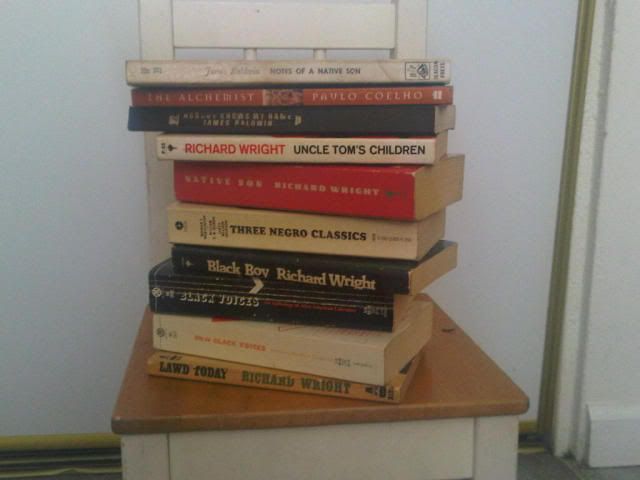 James Baldwin -
Notes of a Native Son
James Baldwin
- Nobody Knows My Name
Paulo Coelho -
The Alchemist
Richard Wright -
Uncle Tom's Children
(already owned, sending to a friend)
Richard Wright -
Native Son
(favorite book ever, also sending to a friend)
Richard Wright -
Black Boy
Richard Wright -
Lawd Today
and three anthologies:
Black Voices, New Black Voices,
and
Three Negro Classics
(all for $2.50 apiece).
Ten books. $28 spent. iWin.
Fueled by a motivating chat with the homie, Vaughn, I'm making my way through Uncle Jimmy Baldwin's entire collection. I mentioned that I feel like I should be able to quote Brother Baldwin, and make references to his masterpieces with ease. So, I am making it my business to read as many of his books this summer as I can. Just finished Baldwin's "One Day When I Was Lost", which is a screenplay based on Alex Haley's
The Autobiography of Malcolm X
. A great read.
I've also began a new collective writing project/group, which I can already see will be insanely beneficial and inspiring.
Now, off to go flex my teachers' pet muscles in writing class. Also spoke with the instructor for the next writing course I hope to take this fall,
The Personal Essay
. YES. Quite geeked.
As for dance....I still can, yes. My passion is shifting as I anticipated. Writing is more rewarding for me, right now. It's something I've always brushed off as a hobby, and, seeing growth as of late, I'm running with it right now. Oh dance, I have not forsaken thee.
I believe one more round of essay revision is in order before class.
How's your week thus far??
all feedback is welcomed. yes, even those of you in the Bronx.|be notified of new posts:
Subscribe